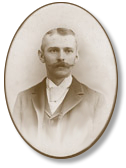 Four generations ago, in the late 1800's, Gideon Levi Parsons, a musician, settled in Massachusetts to apprentice with noted organbuilder, John Wesley Steere. He married J.W. Steere's niece and had two sons, Bryant and Richard. His career as a flue pipe voicer lasted with John Steere, his son, Frank, and later with another well-known organbuilder, Ernest M. Skinner, who eventually purchased The Steere Organ Company.
Both of Gideon's sons apprenticed with the Steere firm. Bryant Gideon Parsons continued in organ building and, with his general knowledge of organbuilding, particularly with the "new" technology of 12 volt D.C. in organ actions, installed many of Skinner's instruments, including the large organ at Kilbourn Hall at The Eastman School of Music. Prior to W.W.I, Bryant was curator of instruments at Yale University. Following the War, Bryant and his wife settled in Rochester, New York, where he had installed many organs previously and recognized the musical and cultural opportunities this community had to offer. After a brief employment with Charles M. Topliff, Organbuilder, he formed his own company in 1921 and continued to focus on service work and historic restorations. Bryant had two children, Bryant, Jr. and Bina. Bryant G. Parsons, Jr., apprenticed with his father at an early age and with The M. P. Möller Organ Company. He returned to the firm following W.W.II and, in 1954, they incorporated as Bryant G. Parsons & Son, Inc. Bryant, Sr., retired circa 1960. The Company grew and relocated to Penfield, New York, and continued with service and restoration work, as well as building small pipe organs.
Bryant Jr.'s two sons, Richard and Calvin, apprenticed with the firm for many years prior to receiving their degrees in electronics. They purchased the firm in 1979, upon their father's retirement.
The operation has been reorganized and expanded and now includes the design and building of custom pipe organs. Two instruments were built in the Penfield workshop prior to relocating to new and larger facilities in Canandaigua, New York, in 1986. Since then, the Company has expanded its operation to major rebuilding and remanufacturing projects, as well as continuing to build new and larger instruments nationwide. Parsons Pipe Organ Builders uses three-dimensional computer modeling to explore design propositions prior to creating working drawings for the construction of their pipe organs. 
Personalized service, quality workmanship and customer satisfaction are key elements in the business. Each pipe organ is custom-designed at Parsons' new facilities in the scenic Bristol Valley, Canandaigua, New York.  Fifteen craftspersons currently participate in this merging of science and art known as organbuilding.
Events
June 14, 2018 7:30 pm - 8:30 pm

May 6, 2018 4:00 pm - 5:00 pm

May 4, 2018 7:30 pm - 8:30 pm
All Events