If we were to focus on only one item that sets us apart from almost every other builder, it would be our voicing style. The ability to hold a pipe and observe its construction, evaluate its potential, and artistically alter its physical properties to create a harmonious sound capable of endless variations when combined with different pipes, is a rare talent.
Scaling and pipe construction are integral to the building of a fine pipe organ. The very reason that discriminating clients choose a pipe organ is due to its refined, elegant, yet powerful sounds. At Parsons we build our wooden pipes to exacting standards, and we specify every detail necessary for our metal pipe suppliers to provide only the finest quality. Using a careful combination of open and closed toes, generous cut ups, moderate wind pressures, and careful scaling techniques, our instruments produce a sound that will be appreciated for generations.
The careful treatment of air – from the time it is first drawn into the blower impellers, travels unobstructed through carefully designed wind conduits, flows efficiently through pressure regulators, enters the wind chests, passes by felt and leather valves with minimal turbulence, and is directed to the pipes through properly sized channels and toe board opening – is a science in itself. It is the foundation upon which exceptional sound is created.
A hallmark of our company is our genuine desire that each client receives individualized solutions to their architectural and musical needs. It is the ongoing dialogue with each customer, throughout the planning, design and construction of the organ, that ensures a perfect marriage of organ to congregation. Our ultimate goal is to ensure that the organ will musically suit the worship needs of each client. Our experience in all styles of design and construction methods enable us to propose a wide range of solutions.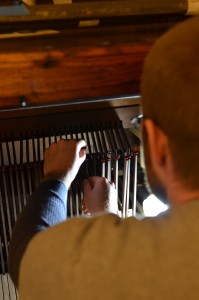 Our key actions are carefully executed using both mechanical (tracker) action designs and electric actuators on slider and tone channel wind chests. Wooden components ensure a quieter action – roller stock is made from carefully selected white oak, action parts are made of hornbeam using phenolic fiber sleeves for an absolute minimum of resistance, and trackers are made of western red cedar to provide a minimum of mass and a maximum strength-to-weight ratio.
We typically incorporate wind chests of slider and tone channel construction. This style chest is the oldest and is universally accepted as superior. It is technically demanding in both its design and construction. Properly sized pallets and key channels ensure a responsive key action, and a copious supply of wind for each pipe. A common wind channel allows the pipes to "communicate" when played together, thus stabilizing tuning and ensuring that all pipes receive wind at precisely the same time. Spring-loaded Delrin slider seals are always used in favor of foam or sponge materials. Sliders are made of tempered Duron for dimensional stability. Unit chests and small organs may be built in the electro-pneumatic or electro-mechanical tradition where preferred.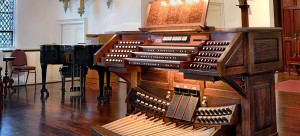 The interfaces of the player to the instrument is the console. Our designs are elegant and ergonomically efficient, with all functional components, stops and couplers located in logical placements. As in case design, consoles are built to be a lasting piece of furniture that complements its surroundings. Normal features include bone and ebony keyboards, combination actions with multiple levels of memory, balanced expression and crescendo shoes, an adjustable bench, and MIDI capability. Every detail from the indicator lights to the mirrors and key desk lighting is carefully executed.
The visual effect that a custom designed and handcrafted case has on the viewer will determine, before a single note is played, the quality of the music yet to be heard. Our organs are specifically designed to blend with their architectural surroundings. We use artist's renderings as well as enhanced three-dimensional computer graphics to allow our clients to view our custom designs in a simulated church environment. Designing with computer allows us to create a variety of perspective renderings and to transfer the final design directly into shop construction drawings.
Events
June 14, 2018 7:30 pm - 8:30 pm

May 6, 2018 4:00 pm - 5:00 pm

May 4, 2018 7:30 pm - 8:30 pm
All Events